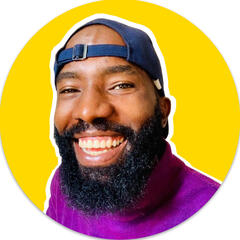 Matthew Eguavoen
Artist
Artist Statement
As an artist I am deeply concerned about the impact of my work on my immediate environment and the world at large and that is why themes of my art centers around the societal, political and economic imbalance taking over humanity happiness, swamping over the essence of society.
I am fascinated by people's reaction to their immediate environment, and how it affects their demeanor and in turn affects their reaction to life. That is what I find really interesting, I see people trying to re-write their past, I see violence, I see the effect of corruption on the lives of nations citizens, I see people trying to find a way to have fun and survive.

From my work you can notice a strong striking focus from each of my models, this bold unwavering stare is my way of using my works to project identity formation, mental health, gender construct, societies and government's impact on both the common man and the affluent. I have a need for facial representation and I am fascinated by its power to evoke an emotional response from my viewers.
I represent my models on a background where everything else is faded out, this is to give a sense of possible environmental, social, economic and political factors that has likely affected a person's life that we do not see, but has had a major impact in his or her life, when you look at them.

I want people to see the good and the bad times I see. I want to make the unseen other-self tangible, to feel a connection to something larger and feel the magic of transformation, in so doing, inviting my viewers to look in. I appreciate mystery in a painting; uncertainty about what you are seeing is desirable for me, why and how the subject(s) has been affected.
WORKS
Artist Bio
Matthew Equavouen (born 1988), is a rising contemporary artist from Edo State, currently living in the city of Lagos, Nigeria. He attended the University of Port Harcourt , where he attained a Bachelors in Science for Civil Engineering and Structures. In his final year at the university of Port Harcourt, Matthew decided to pursue his passion for creating art through self-study, where he continued his artistic development.
Matthew is a full-time contemporary painter, he depicts his figurative and portrait subjects using a combination of oil paint, acrylic paint, charcoal, and graphite pencils to document stories that encompass the emotions and demeanor of his muse to the viewer of his work.
Matthew uses his work to address the societal, economic, and political views across the complex intersectionality that Nigerians face in different facets of life.
Love, the interaction between lovers, and potential lovers are subjects Matthew explores in his figurative and portrait paintings. He depicts the vulnerability and openness associated with expressing the feelings of love, as well as the apprehension of protecting one's self from heart break and ulterior motives.
His work addresses the lack of awareness on mental health, especially depression. Due to the stigma associated with mental health, conversations about depression are not often had, hence information, and resources required to deal with depression are sparse.
The effect of societal pressures and timelines set on youths to achieve certain goals by a specific age (marriage, financial goals, family responsibilities), and the mental toll that arises while trying to attain these landmarks are also common issues addressed in Matthew's work.
Matthew also addresses the lack of justice in society for the typical Nigerian, in comparison to the way the justice system treats the rich and political class.
Matthews works are featured in collections across West Africa, Europe, and North America.
Exhibitions
1. Art in Medicine, Art for Mental Health. 2020.
2. Art Number 23, London. African Art Exhibition. November 2019.